One Person Can Make a Difference
In 2003, our founder, Guido Berguido, was busy searching for bird species he had not yet seen in Panama. Despite the country's small size, Panama harbors more than 1,000 different bird species — more than the combined total of bird species occurring in Canada and the United States together! Most of these Panamanian birds are rather common and widespread, including colorful ones like the tanagers, parrots, hummingbirds, toucans, motmots and puffbirds. Others are rather scarce and restricted to certain locations, however, with some of these birds being endemic to certain mountain tops or islands off our coasts.
Guido realized that he was yet to see some of the bird species found only in the tall mountains of Panama's Darien province. This is a very isolated area, however, which meant that the mountains were challenging to access. As Guido explored his options for finding these endemic mountain birds, he happened to notice a 1,439 meter tall mountain less than 100km from downtown Panama City — right on the edge of the Darien province. He began asking around to see what adventurous souls would join him in exploring the mountain called Cerro Chucanti.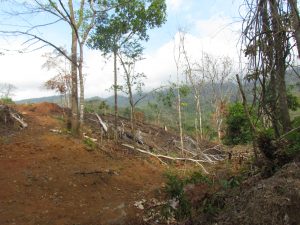 Finally, in March of 2004, he convinced a friend and fellow biologist, Rafael Aizprua, who at the time was collecting plant specimens for the Smithsonian, to travel to Cerro Chucanti. Soon they realized that this seemingly accessible mountain was a little tougher than expected — especially when carrying liquid nitrogen canisters, collecting poles, sampling equipment, and camping gear. It took them two days just to arrive at their base camp near 700 meters in elevation. They were saddened to find that even at this remote location there were high levels of deforestation; most of the land around the campsite had already been cleared for cattle ranching. From this base camp, however, they could venture higher up into the lush cloudforest where they encountered Critically Endangered Black Spider monkeys and Guido saw a couple of the endemic birds he was looking for, like the Beautiful Treerunner.
After a few days collecting rare plant specimens, the scientists started their journey back. During that long way home, Guido had only one thought in his mind: to go back to Cerro Chucanti and discover more of the rare birds found there. When he was finally able to return with some birding buddies, however, they were heartbroken to witness that some of the forest where Guido had seen interesting birds been cut down and burned. When on a third visit to Cerro Chucanti, Guido encountered more endemic species that he had never seen before and yet more rainforest that had been burned nearby, he couldn't take it anymore.  Guido decided then and there that he had to do something to stop this madness!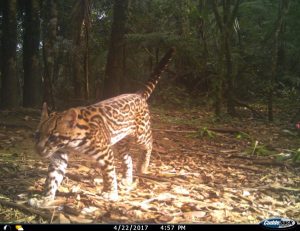 Guido managed to sit down with the farmer who owned the areas he had been exploring, and explained to the owner how impressed he was to find such rare plants and animals in his property — and how sad he was to see that gorgeous rainforest being cleared for farming and ranching. Guido convinced the farmer to sell his forested property, and managed to collect the funds from family and friends to secure the first 42-hectare piece of land at Chucanti.
From that moment on, Guido began inviting his former classmates from the University of Panama and colleagues from the Smithsonian Tropical Research Institute (STRI) to come visit this newly-acquired piece of land to learn more about it. Much to our surprise, Cerro Chucanti has turned out to be far more interesting than we ever dreamed — and not just because of the special birds found there. To date, more than 20 new wildlife species have been discovered there, including new frogs, salamaders, snakes, insects, spiders and orchids, with more species still awaiting formal description. Due to its isolation and elevation, Cerro Chucanti has actually turned out to be an Endemism Hot Spot !
Our conservation efforts started a momentum that have attracted more individuals and organizations to support our work, which in 2014 spurred the creation of ADOPTA, the Adopt a Panama Rainforest Association (Asociación Adopta el Bosque Panamá). We are proud to be partnered with the International Conservation Fund of Canada (ICFC) and Rainforest Trust to expand the Chucanti Nature Reserve and collaborate in protecting this special rainforest in perpetuity.