Our Story
One Person Can Make A Difference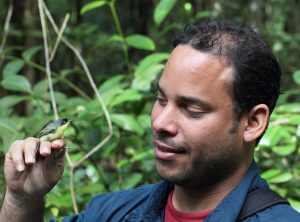 ADOPTA, full name Adopt a Panamá Rainforest, is a non-govenmental organization that was formed to protect and manage what is now one of Panamá's largest private nature reserves called Cerro Chucantí. The area of the reserve was noticed in the early 2000's by ADOPTA's founder, Guido Berguido, as he was searching for birds he had not seen yet. Upon his arrival, Guido was faced with equal amounts of wonder and sadness as he discovered a beautiful mountaintop cloud forest threatened with destruction by logging and agriculture. Every trip Guido and his friends made to Chucantí seemed to make new discoveries. Yet every trip also showed how quickly the forests on Cerro Chucantí were disappearing.
Guido knew that something had to be done to stop the madness, and a friend suggested he look into buying the land. Surprisingly, the landowner was willing to sell him the 100 acres at the very summit – the very plot of land contining the unique cloud forest – for about $7,000. This original purchase protected the most sensitive habitat on the mountain, and soon more and more groups were able to visit the area. Many of these people expressed interest in helping Guido grow the private reserve, and over time more land was aquired. Eventually, through the help of inidivual donors and partners such as the Rainforest Trust, International Conservation Fund of Canada (ICFC), and the Weeden Foundation, the private reserve has now grown to about 1,500 acres.
To keep the spirit of this original story alive, our current projects all reflect our origins. The Cerro Chucantí Private Nature Reserve is still our primary focus, but we are also dedicated to supporting healthy bird populations and forests in Panamá, so that others can benefit from the same enthusiasm that led Guido to make his first visit to Chucantí.
To learn more, explore the website or Contact Us if you'd like to get involved.