Protection
Deforestation is currently one of the largest environmental risks in Panama, and we aim to save areas of high conservation value by purchasing land or placing areas under legal protection.
Research
In many cases, we do not yet know enough about Panama's ecosystems to properly conserve them. By focusing on research, we can identify species and areas of high conservation value, and focus our activities accordingly.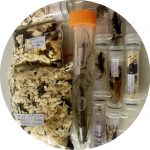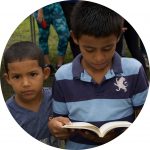 Education
Conservation does not happen by itself; public support is vital if we aim to achieve a more sustainable future. By educating members of the general public about environmental issues, we hope to increase support and involvement in conservation activities.
Outreach
Although conservation is a global issue, conservation activities affect local communities the most.We believe that ideal conservation can only be achieved when local communities are engaged and invested in the efforts of larger organizations.
Why Panama?
Panama is of vital conservation importance: as the bridge linking North and South America, Panama boasts the highest level of biodiversity in Central America. Species from both continents are found in Panama, but the country's complex geography has also created a myriad of habitats containing endemic species – species found nowhere else on the planet. In addition, despite being only the size of South Carolina, over 20% of the country's land area is protected. These traits put Panama in a special category for conservation, and we are proud to be working in such a diverse country.