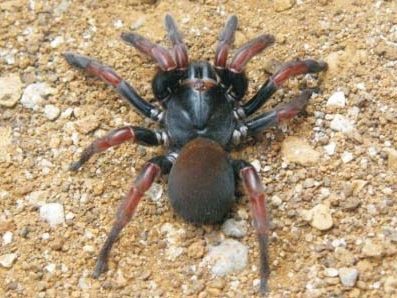 Miranda & Bermúdez (2010)
Strophaeus sebastani
Miranda & Bermúdez (2010)
Strophaeus sebastani
The first species in its genus and only the second from the family Barychelidae that has been found in Panama! Although direct comparisons between this and the other 3 species of its genus are difficult due to limited information, the large geographic separation between them alone is sufficient to suggest that this is a new species (the others are found in Brazil and Peru).
Male: generally black, smaller than the females but much larger (approx. 21.5 mm in length) compared to others in its genus.
Female: with a more complex coloration than males: carapace, femurs, and tarsi dark brown (almost black), other parts of the legs and area around the eyes reddish, abdomen reddish-brown. Significantly larger than the male (approx. 27.1 mm in length).
Distribution
To date, this species has only been encountered in Cerro Chucantí.
Etymology
The name "sebastiani" is dedicated to Sebastián Miranda, son of the first author of the describing paper for this species.
References
Miranda, R. & S. Bermúdez (2010). STROPHAEUS SEBASTIANI, NUEVA ESPECIE DE BARYCHELIDAE (ARANEAE: MYGALOMORPHAE) DE PANAMÁ Boletín de la Sociedad Entomológica Aragonesa. 175-179. (Link)