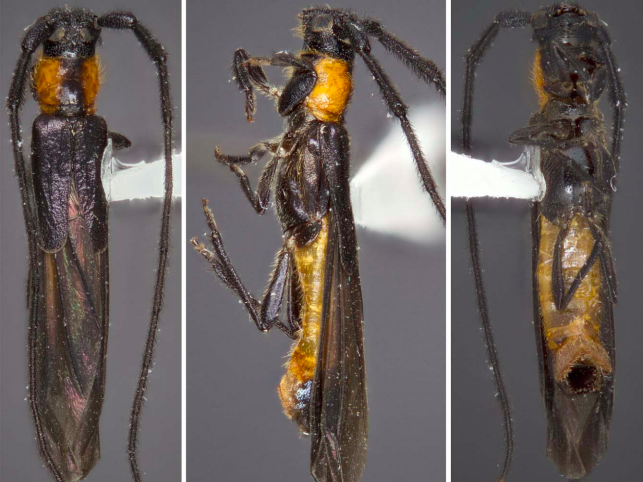 Bezark et al. (2013)
Tessaropa elizabeth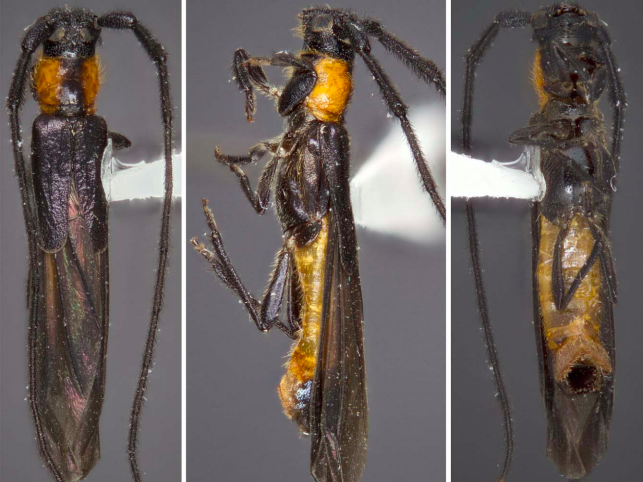 Bezark et al. (2013)
Tessaropa elizabeth
The first species in the genus Tessaropa discovered in Central America.
Identification
It is distinguished from other species in the genus by its orange pronotum with a dark central line and orange-tipped antennae. For more information, see the section below describing the female.
Female: A long cerambycid (approximately 9.3 mm from the head to the wingtips) with completely divided eyes. Mainly black, expect for orange antenna tips, pronotum, and abdomen. The antennae are longer than the body (10,3 mm).
Male: Distinguished from females by having thinner, longer antennae (approximately 1.5 times the body length) and by having a mostly black underside.
Distribution
To date, this species has only been encountered in Cerro Chucantí.
Biology and Natural History
Known to be active in February, being the time of year in which the original specimens were collected after being attracted to white light.
Habitat: 875 m in elevation, specific habitat not described.
Etymology
The species name is dedicated to Elizabeth Anne Bezark, daughter of the first author of the describing paper, who has been known to collect a cerambycid or two from time to time.
References
Bezark, L.G., W. H. Tyson & N.M.Schiff (2013). New species of Cerambycidae from Panama, with new distribution records (Coleoptera: Cerambycidae). Zootaxa. 3608(4): 273–277. (Link)