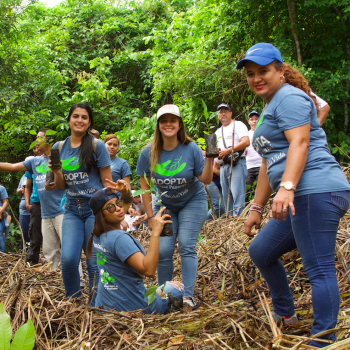 Every organization has a different approach to reforestation. Governments can employ legislation, industries like logging and agriculture can adjust their activities to support healthy ecosystems, and people can regrow areas of habitat near their homes.
Our approach uses volunteers at every step to prepare and plant trees to reforest Panama. By working with local volunteers, we can adapt our reforestation activities to locally specific needs. For more information about our reforestation plan, and what you can do to help, explore this page!
Even in a healthy ecosystem, many young plants die because they begin growing too close to their parents and compete with them for resources such as nutrients. We take advantage of this natural process for our reforestation activities by rescuing seeds and saplings which are too close to their parents, placing them in temporary containers to grow and strengthen them for a few months, and replanting them in deforested areas.
The plants that we use are chosen to attract wild animals, grow rapidly, and have a minimal effect if we remove a few from healthy natural areas. To meet these objectives, most of the plants we use are common, large-seeded species such as Espavé, Anacardium excelsum, Guandú, Cajanus cajan, and Cuipo, Cavanillesia platanifolia.



Exotic species quickly invade deforested or degraded areas in Panama. Because these species can suppress the growth of native plants, we have to remove them from the areas we want to reforest before we can plant new trees to ensure they receive enough sun, water, and nutrients to grow up healthy. Of course, when we remove the exotic plants we mark all of the native plants we don't want to kill.
Even after regrowth has started, we have to continue clearing reforestation sites because some invasive species, especially wild sugarcane, Saccharum spontaneum, grow extremely fast. In some of our sites, the wild sugarcane has to be cleared every two or three weeks! After a few years the native plants will begin to shade out the invasive species, at which point we can scale back our maintenance and let natural regeneration take over the growth of the young forest.


The best part of the process! During reforestation events, groups of up to hundreds of people work together to plant a new piece of forest in areas like Camino de Cruzes National Park or the Cerro Chucantí Private Nature Reserve.